When I first got a domain name from a European registrar a few years ago, I was absolutely thrilled with the idea of owning a domain name.
After a lot of searching. I finally found a registrar who offered free mailboxes with the domain registration. What happens if you already have a domain from a registrar that doesn't offer email? Now you are stuck with a domain you have registered for a long time.
This is not very convenient. You don't want to keep transferring your domain from one registrar to another just to get the free benefits. As a beginner or student, you may not even be able to afford it.
If you already have a registered domain and are looking for good European email hosting for your custom domain. We have found the perfect solution for you.
Inleed.xyz - Free Swedish Email Hosting for your own domains

Inleed.xyz is a free service developed by Inleed to offer our customers an unlimited number of email addresses completely free of charge.

It is one of the most highly functional yet free European email hosting providers for your domain that I have come across.
Features
Free email hosting service for all domains registered anywhere
Minimal sign up data i.e. name and alternate email
1000MB disk space
No send or receive limits. Unlimited domains, unlimited mailboxes
Latest open source webmail software - Roundcube
IMAP / POP / SMTP access over SSL/TLS
Easy to use interface
Two-factor authentication
Owns all infrastructure hosted and registered in Sweden
Sustainable product from a fairly large hosting provider in Sweden
100% Ad-free and private
GDPR compliant
Account interface
One good thing about Inleed.xyz is that every interface they offer, including the sign-up and admin panel, is available in both English and Swedish.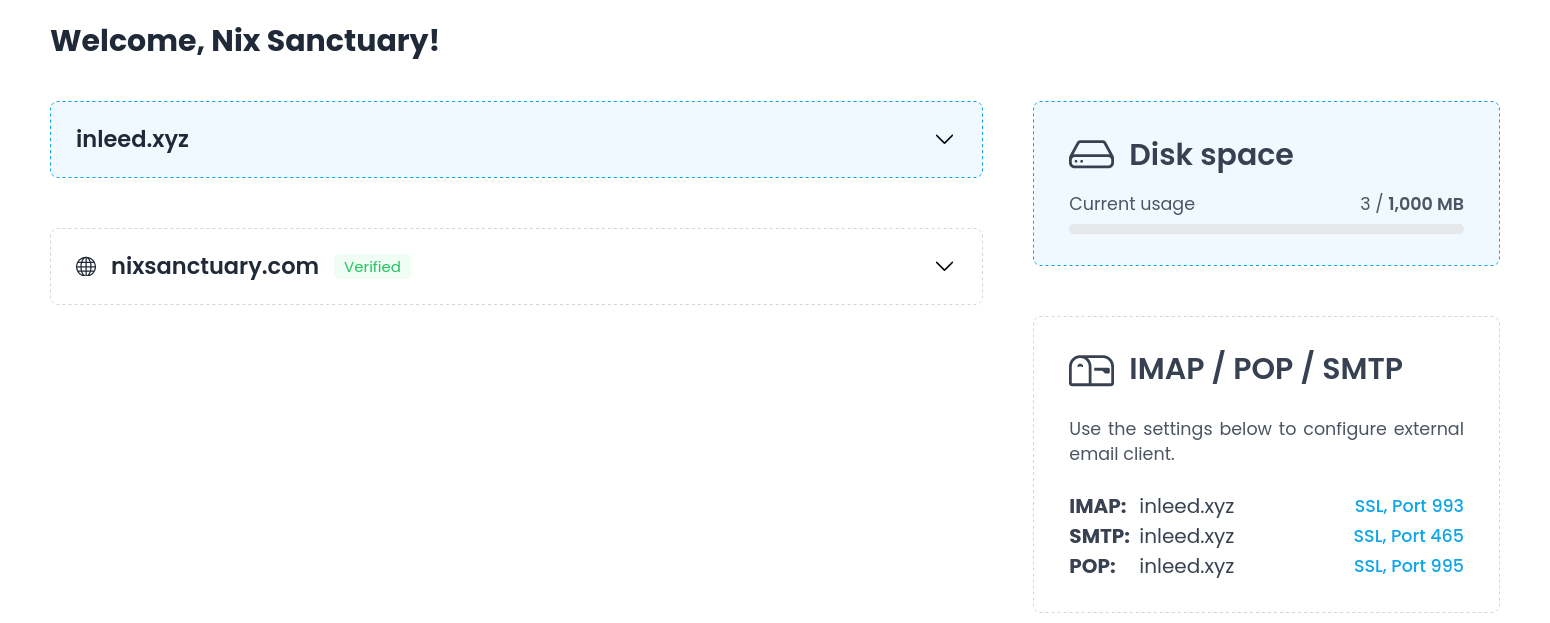 The landing page has a minimalist design with basic information about your primary @inleed.xyz email address, disk space, verified domain list, email accounts and server information for standard email protocols.
Under Settings, you can change your account name.
Under Security, you can easily enable two-factor authentication for an extra layer of security in case your account login password is compromised.

You can easily change passwords for any of the email accounts with a single click.
It is very basic, but manageable. I would say it does the basics right for me.
Domain Onboarding Process
To connect your domain to Inleed, navigate from the Settings of the account interface to the Domain section.

Add your domain name there
You will need to verify the domain owner with a TXT type DNS record in your DNS hosting provider, usually provided by the domain registrar these days.

The same domain management page will also give you various other DNS records required for fast email delivery.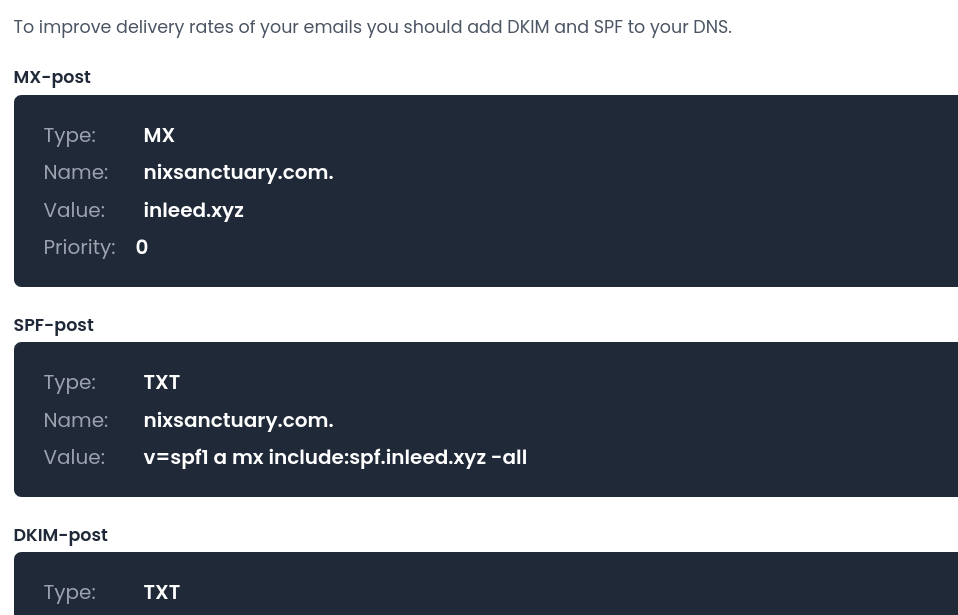 The whole domain management process is simple and can be done by a user without any manual intervention or activation.

Setting up an email account for your own domain is very simple and straightforward.

Webmail, email clients and email delivery
This free Swedish email hosting provider rocks our favourite open source webmail software, Roundcube. They are not lazy when it comes to updating their webmail.
Most small email providers who do it on the side are usually not running the latest version of any software they host. This gives us a positive feeling about maintenance and security updates in the years to come.
Within your webmail, you can change your email account's password, use it with the Mailvelope extension, etc.
Unlike some free providers, Inleed offers full IMAP/POP/SMTP access over TLS for you to configure email clients.
In our thorough tests, the connection is reliable and we haven't encountered any delivery problems, including to Gmail, Microsoft email addresses.
I also tried to test the delivery issues with online tools such as Mail-tester, which uses SpamAssassin (a widely used spam filter) among other rules to give you a score. With Inleed, we got a perfect 10.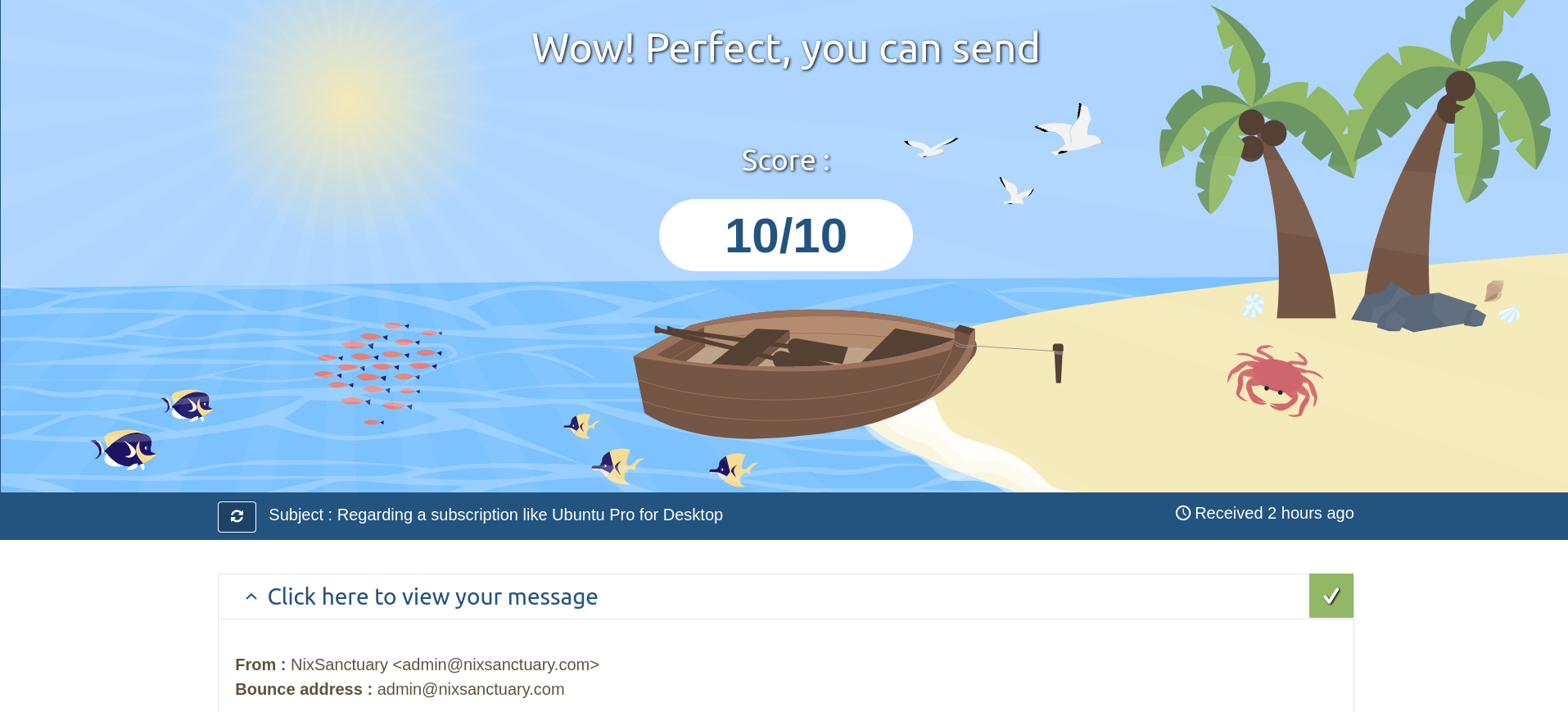 Too good to be true for a free service.
Things I don't like
Inleed's free email service is a new product, so it's not fair to compare it to a mature product.
You cannot yet set up a catch-all (wildcard) email address.
For primary email, Inleed's choice of .xyz as a TLD is not so good if you consider their primary address for sending email. This particular TLD is considered an untrusted TLD by spam filters. It can cause delivery problems.
Another thing that disappointed me is that you cannot send, receive and access your mail over IPv6.
Inleed.xyz does not do IP stripping. Email headers you send using email clients like Thunderbird would contain your public IP address. This does not apply to the official webmail client.
The lack of upgrade options can be a downer for many users. Inleed suggests that you sign up for the web hosting solution they offer just in case you want to upgrade, but a paid email-only hosting solution or an upgrade within the Inleed.xyz email service would have been a much better choice. Not everyone is into web hosting packages, no matter how inexpensive and attractive they look.
Bottom line
While neither Inleed nor its parent company are new to the business, this particular offering is definitely not a mature product. That being said, it does what it sets out to do.
Although the service does not come with support. Whatever support we ask for, the response is prompt. It is really quick and focused. As a user of their free service, I have never felt like a second-class customer. In fact, it overturned my idea of support for a well-resourced service provided at no cost to the user. Many of these requests were not sent from our domain's email [so that they could identify the purpose].
For a free service with adequate resources. The customer support and feedback mechanism was commendable.
The email service is perfectly usable in its current state, but huge improvements are needed for wider product adoption.
I am sure their to-do list for features and improvements must be long. One thing I would really like to see is an alternative domain.tld for the primary account instead of .xyz which is flagged as untrustworthy by most spam filters.
The support on their paid products is as good as you would expect. Inleed.se, their main product, is a fairly large hosting provider offering web hosting, VPS, dedicated servers, isp, VPN, IPv4 as a service, managed services etc) in Sweden.
I have received a positive report from an independent source in Europe who has been trying Inleed's basic virtual machine or VPS for a couple of weeks now. According to the source, the connection is fast, the services offered are stable and the Swedish support that answers is very prompt. One complaint or shortcoming I've heard from them is that Reverse DNS on IPv6 doesn't exist in the interface, it was only there for IPv4.
Your data for Inleed.xyz is hosted in Sweden, a member state of the European Union. Inleed is owned by Yelles AB. Yelles AB has been online since 2006. The whole infrastructure is owned by the parent company Yelles AB with its own ASN.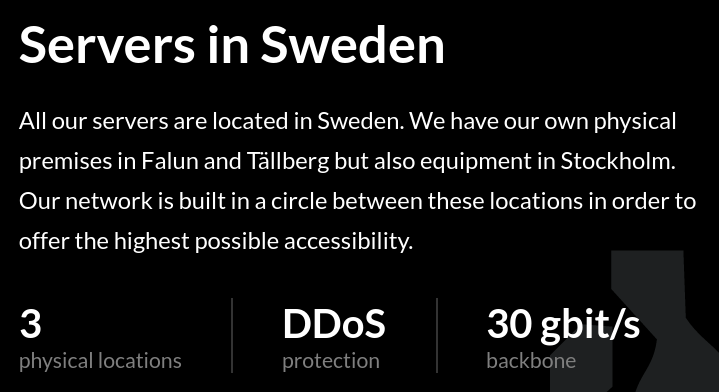 This is a good thing. In general, data protection and privacy laws are better for users in the EU.
Don't take my word for it. A popular Swiss company known for email also hosts its data in the EU and not in Switzerland. According to them, they find EU data protection laws much more elaborate and restrictive than Swiss ones.
Essentially, we don't hand out data unless required to by Swedish law: Inleed
I haven't found any major problems with the service so far for the total of nothing I've spent on the service. All I get is good email delivery for my domain. The core task of the service.
I suggest you sign up and try it out on your own personal domains.
Please be fair to the service and make good use of it. Abuse of good resources ultimately harms the service as a whole. It is the least we can do to appreciate the hard work.
Inleed is indeed a very good European email hosting provider for your domain.