Smartwatches with Open Source OS And Where To Find Them
In context of fresh Chinese smartphones' telemetry leaks - OnePlus, Xiaomi, Oppo and Realme, the **data privacy concerns are rising again**.
In context of fresh Chinese smartphones' telemetry leaks - OnePlus, Xiaomi, Oppo and Realme, the data privacy concerns are rising again. Wearable devices know their user better than anyone else: where he/she lives, eating, sleeping; which sport, TV show, store they like and which politics they support. Even more, they can predict what user wants to eat on lunch with big chances to success, simple 'cause they know what he/she bought last week. We don't need to even discuss a value of health, finances or private photos - leaking a small piece of related information can make a big hole in a ship called "Comfort Life". No matter who you are - an ordinary worker, bank owner, green activist or journalist specialising on corruption. Some people will surely disagree here with the slogan "I have nothing to hide" slogan - folks, no point in discussing it anymore 'cause a billion places on Internet still host the finsihed battles; this Wikipedia page should uncover the main points.
Then came the logical question like "I don't want my data being sent to China - what next?". Partial solution is not buying Chinese brands like Xiaomi, Redmi and pay extra money for top devices from Apple and Samsung with "pay more and get more" principle. But traditional logic doesn't work here - do you remember Pegasus spyware and the crazy number of hacked Apple devices? So more expensive devices or brands aren't always more secure.
In this article, we're trying to cover the hardcore way for smartwatches: Open Source. The code is open, anyone can check it, change it, improve it or find backdoors or telemetry. It's not as easy as with Android smartphones 'cause physical size is very limited and hardware way more heterogeneous. Don't expect everything to work perfectly, some features might not work like before, but who knows - one time you might get a great feature or better power saving. Anyway, freeing your device from control of evil (or even good one) corporation - what a great journey!
PineTime
Display: Square 1.3" 240×240 IPS
OS: Open Source, based on FreeRTOS
SoC: Nordic Semiconductor nRF52832
CPU: 64MHz
Storage: 4 MB user space + 0.5 MB OS space
Battery: 180 mAh, one week in standby mode
Connectivity: Bluetooth 5, Bluetooth LE
Sensors: step counting and heart rate
Size and weight: 37.5 mm x40 mmm x 11 mm, 38 grams
Price: $27
Finally, a smartwatch from Pine64 company - from the creators PinePhone, the Linux-first smartphone.
One week battery - this is huge, market is full of phones with 24 hrs battery life and daily charging will be boring sooner or later. The case is made from aluminium (borders) and plastic (display and bottom), supports IP67 protection - water-resistant up to 1 m - good enough to protect device from rain, but definitely not ready for swimming. Despite the low price, the plastic isn't the cheapest and feels great.
The screen is good enough for IPS and it would be hard to find anything better in similar price range. Don't expect to get pure black color. The clock is configurable: AM/PM and 24hrs time mode, many skins with digital and analog mode.
The Bluetooth Low Energy profile is good for saving battery when syncing, however music playing control is also supported - hard to tell if this feature will find its users. PineTime's step counter is accurate, its heart rate detector too. Bluetooth syncing is supported, you can sync it with phone or laptop and track your health state. Also, about the notifications - after pairing with smartphone, new SMS and incoming calls details will be on watch, very helpful if you're in meeting or doing any sport activity. Notifications can be received in two ways: wrist vibration and quick visual glance. For iPhone there's a companion app, also new firmware can be flashed with NRF Connect application and built-in instructions:
More applications that support Pinetime: Gadgetbridge (Android), Amazfish (Linux), Siglo (PinePhone).
If you want to develop an application for PineTime - the DevKit will cost you another $27. This is just a PineTime disassembled parts with dock and USB-A connection cable.
Pro:
regular updates
alternative OS - WASP
customizations: skins, fonts, text, backgrounds
big community
the firmware options works without pairing with smartphone or PC
no telemetry
price
Cons:
No GPS - this one will destroy user experience on unknown location.
Asteroid OS

Asteroid OS "Free your wrist" is the Linux distribution for smartwatches with graphical interface based on Qt and QML; designed for security and privacy. Asteroid OS use libhybris for simple and fast porting of Wear OS and Android devices. Another big difference between Asteroid OS (next - AOS) and Wear OS - the AOS developers trying to make firmware useful without pairing, so AOS isn't just like extended display for smartphone.
For synchronisation there's a dedicated application for Android - AsteroidOSSync, available on Fdroid. No iPhone application for sync yet.
The AOS installer allows entirely wiping an original OS or making a dual boot with an old OS and AOS. It's recommended to make backup of userdata and boot partitions first.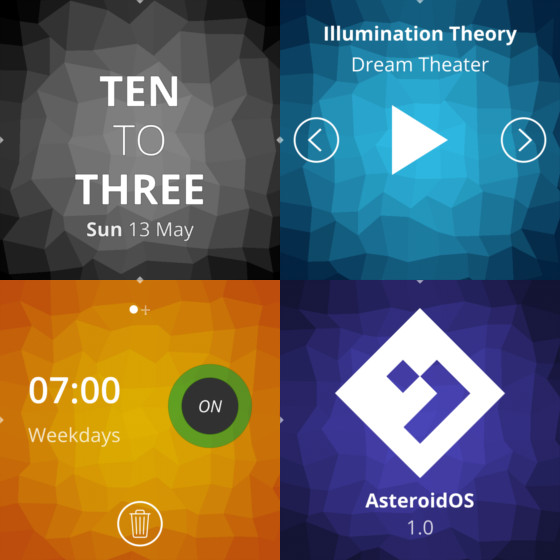 AOS includes its own applications such as Agenda, Alarm Clock, Music, Calculator, Weather, Timer and more; also built-in tools for Bluetooth pairing and vibration control. All coming with very intuitive UI, most users can understand it from first look. Spotify's control like play/pause/skip is supported, which is very cool and usable if you're few meters away from portable audio devices. The big collection of unofficial watch faces available here with unique designs and clones of popular watches - more than enough to impress a friend or colleague; I like this one with decimal time.
Currently, the best supported devices from best to worst are:
LG Watch Urbane
Huawei Watch
TicWatch Pro 2018/2020
LG G Watch
LG G Watch R
Moto 360 2015
Asus Zenwatch 2 1.63"
Asus Zenwatch 2 1.45"
Each device has its own personal guide, but generally all using ABD and Fastboot tools. Some devices are old, but you can get them very cheap on places like Ebay.
Let's highlight the top3 recommended devices for AOS.
LG Watch Urbane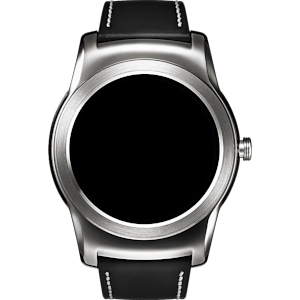 Processor: Quad-core 1.2 GHz Cortex-A7
Chipset: Qualcomm Snapdragon 400
GPU: Adreno 305
RAM/Storage: 4 GB / 512 MB RAM
Display: 1.3" 320x320 (~46.3% screen-to-body ratio), P-OLED multitouch touchscreen with 16M colors
Battery: Li-Ion 410 mAh, non-removable
Case: 45.5 x 52.2 x 10.9 mm, 66.5 g, stainless steel, IP67 certified - dust and water-resistant up to 1m and 30min
Connectivity: Wi-Fi 802.11 b/g/n, Bluetooth v4.1, Bluetooth LE
Sensors: accelerometer, gyro, proximity, heart rate
Features: MP3 player, photo viewer, voice dial/commands
Notifications: vibration, MP3 and WAV ringtones, loudspeaker
Price: $349
Definitely the mix of urban, business, fashion styles watch. The issues from first sight: no GPS and no screen off button! Yeah, kinda strange, including the fact that this is definitely not a budget device - $349! Thinking it's huge overprice for a good design. Also, a bit bigger device with the same diameter will be jump forward for usability. 320x320 maybe enough for this size, despite this graphics often looks pixelated. From one point of view, the stainless case looks solid, but often feels like the big chunk of steel on hand. Wi-Fi is a huge plus: messages and notifications can be received without pairing with smartphone - device independence matters. It's 410 mAh battery is enough for two days with internet connection.
Huawei Watch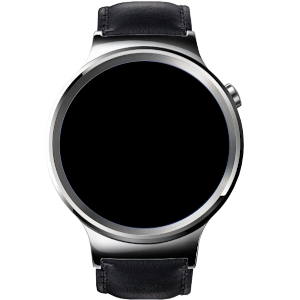 Processor: Qualcomm Snapdragon 400
RAM: 512MB
Screen: 1.4" AMOLED (286ppi) sapphire protector, 400x400 pixels
Storage: 4GB
Connectivity: Bluetooth, Wi-Fi, heart rate sensor
Size: 42mm x 11.3mm
Battery: two days standby
Price: £289
The AMOLED 400x400 pixels display is perfect, and this is the biggest advantage of this watch. 42 mm looks like great size for the display, with AMOLED a realistic black color can be achieved, and the sapphire crystal protection will defend it well. Wi-Fi connection support is helpful for getting notifications without smartphone. The heart rate sensor seems like is accurate.
TicWatch Pro 2020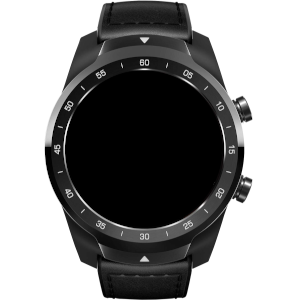 Display: Dual-layer 400×400 pixel FSTN/AMOLED touchscreen
CPU: Qualcomm Snapdragon Wear 2100 SoC
Memory: 1 GB RAM
Storage: 4 GB ROM
Case: 45 mm size, IP68 certified
Battery: 415 mAh battery
Sensors: PPG heart rate sensor, NSF, GPS, accelerometer, Audio: microphones, speaker
Connectivity: Bluetooth 4.2, Wi-Fi 802 b/g/n
AOS issues: partial light sensor support, no speaker and NFS support, partial camera support.
Price: £249.99
A lot of sensors and monitorings for good price, not full AOS support yet, but very interesting device anyway. Good AMOLED display with 400x400 resolution, two physical buttons, the battery lasts for 3 days of typical usage. Gorilla Glass 3 is old, but probably does the job.
If you like functionality - TicWatch Pro 2020 is the best option, if you need a outstanding screen to impress - go for the Huawei Watch.