Introduction
Cheap smartphones and digital cameras - the key factor of digital revolution. Every amateur can create a personal collection with gigabytes or even terabytes of multimedia content, and online services like Google Photos or Flickr can help to save them. Clouds are good, but sometimes local work with multimedia is more private and effective. Photo manager can organize your chaos and highlight the best or the worst material with tags and rating; some software also have some photo editing features: red eyes, contrast and defect correction, colors and shadows level. If you are working with RAW formats, the photo manager can make your life easier with image processing and converting to popular formats; some photo managers also have video support. In this review, I want to tell about the best software that can be run on Linux and other operating system.
DigiKam
License: GNU GPLv2
Official website: https://www.digikam.org/
Rate: 5/5
DigiKam - one of the best and maybe the most powerful photo application born in KDE: supports the most popular image formats, including ~200(!) RAW formats, extended MySQL database, editing, defect correction, external services and many more. Well, I think all this post will not be enough for features and tech details. DigiKam is impressively good for direct work with digital cameras: red-eye removal, preview, filters and special effects can make your life easier.
After the first start, DigiKam asks about an order and can sort photos automatically. Sorting by title, location, label, rating works better than traditional sorting by directory and help to find needed images faster. DigiKam can also work with video and play many popular formats like AVI, MPG, 3GP, MKV. Many external tools and plugins are available (search KIPI plugins), DigiKam also asks about plugins when it can't handle an image.
The interface can be non-intuitive for beginners, some tools hide in numerous menus; documentation is good and really can help. No official forum is available, but you can discuss on the official mailing list.
Photoprism
License: GNU GPLv3
Official website: https://www.digikam.org/
Rate: 4.5/5
The relatively new AI-powered application, development started in 2021. Supports browser photo browsing, organizing and sharing. "Dual" web-app and desktop nature of this software lets you use it on desktop, server or private cloud. Photo tags and advanced search filters are provided out the box. Also supports Live Photos playback, like short videos, Apple users will definitely like it. Super useful is an automatic photos classification: cars, flowers and more; AI helps here a lot. Advanced built-in maps with geotags support will surely be helpful for travelers. If you feel uncomfortable without sharing your photos with friends and family, the social features allow uploading them in one click: Facebook, Google Photos, Apple iCloud or Amazon.
Shotwell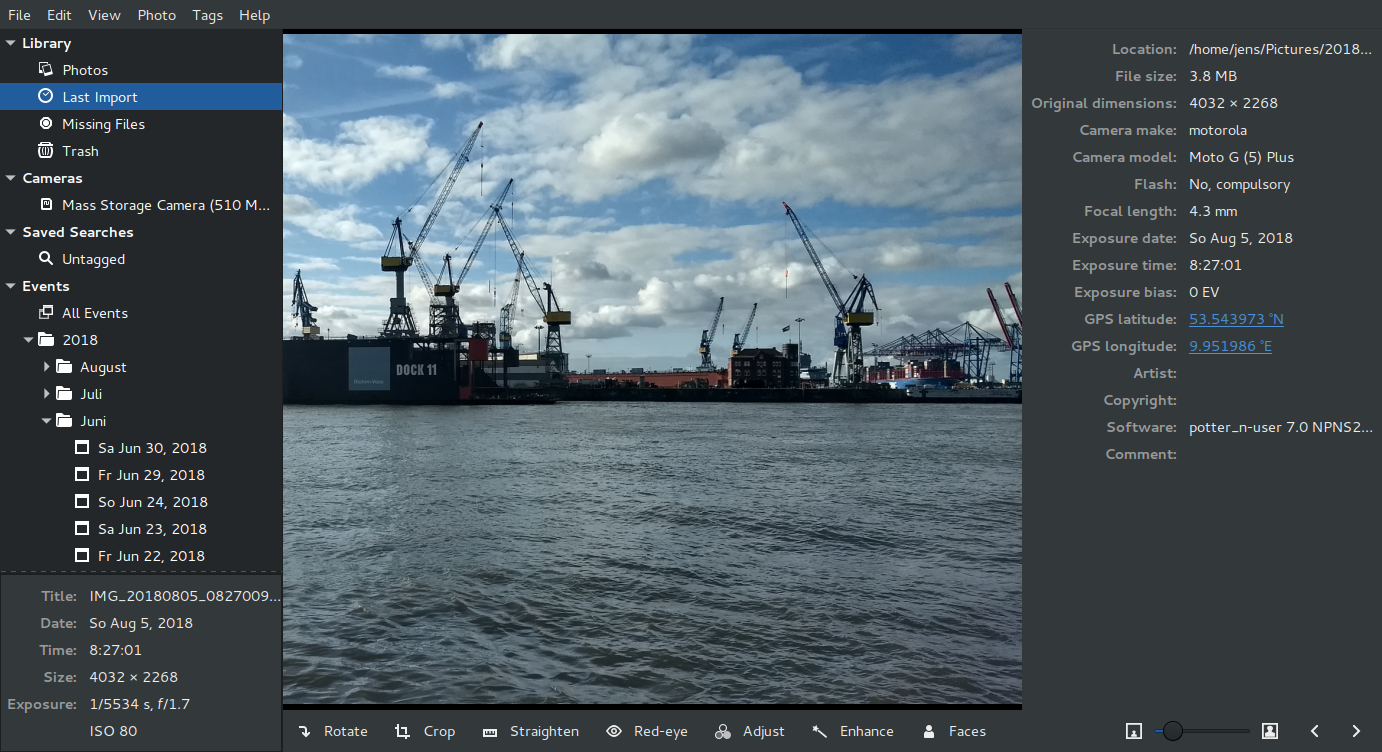 License: GNU LGPL v2.1
Official web site: https://wiki.gnome.org/Apps/Shotwell/
Rate: 4/5
Shotwell - default image organizer in GNOME Desktop and written by Yorba Foundation, since 2015 support by the open source community. This photo manager written absolutely in GNOME style, and can't see the big interfaces with many menus and complex instruments - Shotwell have an easy and user-friendly interface and can work with digital cameras, support the basic image editing: crop, eliminate, rotate, red-eyes fix, adjust (exposure, saturation, temperature, shadows and others), enhance. Shotwell also supports sorting by tags, date and rating. A personal title and description can be added to each image and used in the extended search pattern.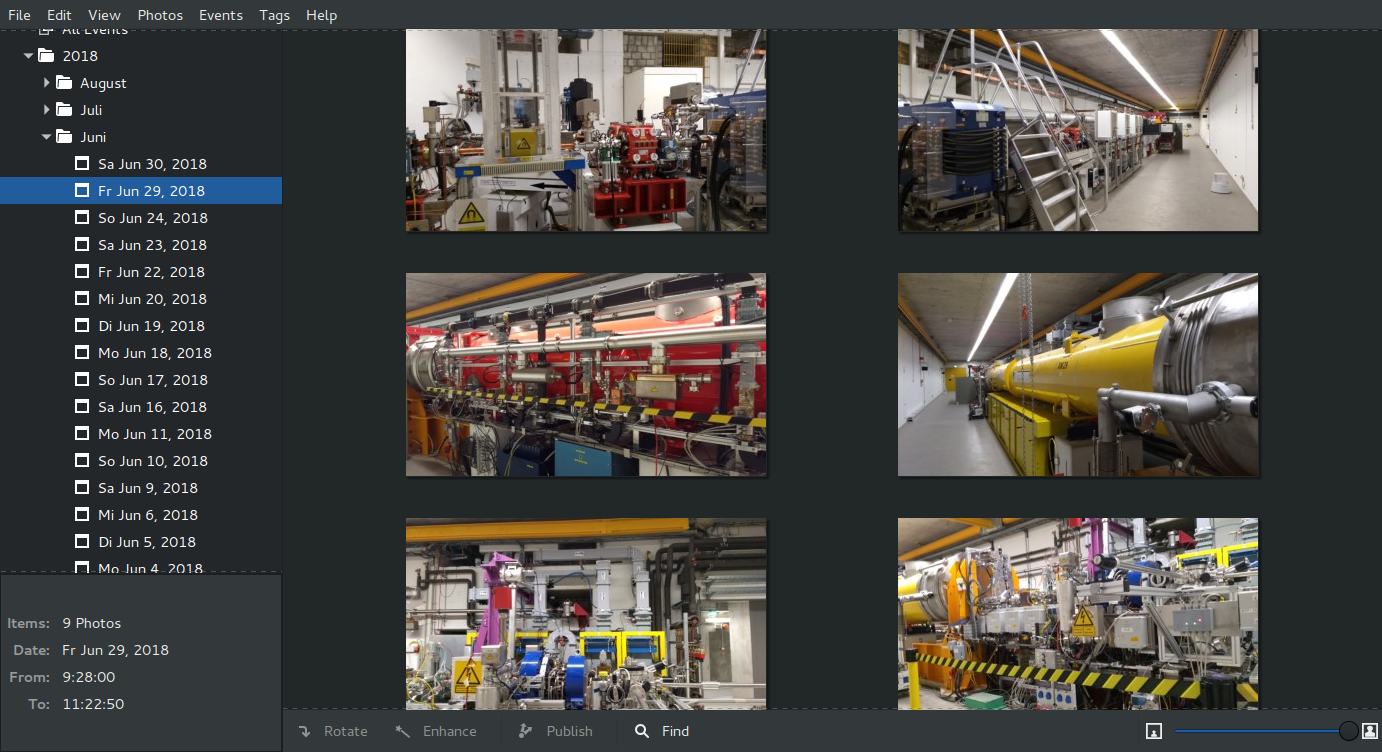 Shotwell uses the GStreamer multimedia framework and works with popular images & video formats, but doesn't support a .gif format - in my opinion, the one of the biggest failure. Support of RAW formats is very limited, and you can have problems with some digital cameras. Shotwell works fast with big collection (based on my real experience with ~1000 4K+ pictures) and supports very nicely feature - wallpaper slideshow from the image collections.
Fotoxx
License: GNU GPLv3
Official web site: http://kornelix.net/
Rate: 3.5/5
Fotoxx - application for photo management and editing in minimalism style. Fotoxx also helps you to sort your collection by date, tags, rating, comments. Application support search my metadata, file and folder names, red-eyes fix, image filters, very good instruments for region selection on images, can change the color temperature and create the HDR, panoramic picture and slideshow. The batch processing mode and color level editing are also supported. Minimal RAW format support is included. Fotoxx doesn't support any video formats, plugins or external tools.
The most negative moment is the old-school interface from the start of 00s with small menus and minimized toolbars. New design and optimized instruments to work with big collections are necessary things for this application.
KPhotoAlbum
License: GNU GPLv2
Official website: http://www.kphotoalbum.org/
Rate: 3.5/5
KPhotoAlbum - tool for photo management and editing in KDE style with ultra-minimalism and easy to use philosophy. It also supports tags, annotations (categories) and extended search by filename, data or People option (you can edit the special tags with real names). KPhotoAlbum supports the most popular image formats, include RAW format from most devices (and works very fast with this format). No other third-party plugins or external tools are supported. Nothing extraordinary was found in instruments and filters - rotate, crop, many filters as histogram equalization or monochrome.
Tonfotos - a noteworthy solution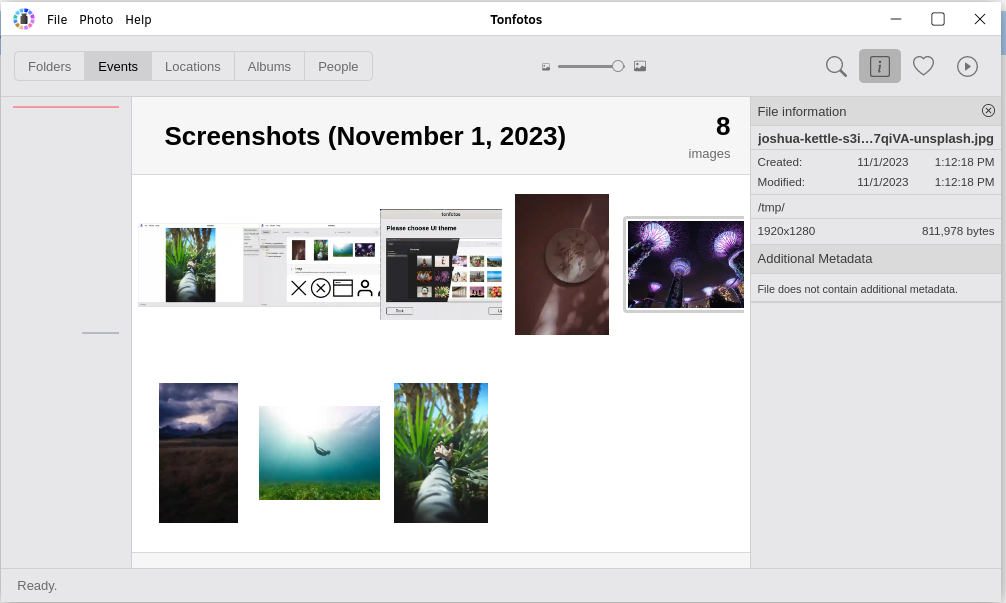 License: proprietary, $39 - Personal license, $99 - Family license
Official website: https://tonfotos.com
Rate: 4/5
Tonfotos is able to search photos based on events, dates, people, places and more - Tonfotos makes it easy to browse your photo collections. Easily find the images you want from your computer, external drives such as flash drives or SD cards, or NAS. Even the license doesn't limit the size of the collection: gigabytes, terabytes - store as much as you can. Activating the licence is very simple: buy it on the Tonfotos website and enter the code in the application menu. Making it a breeze to use.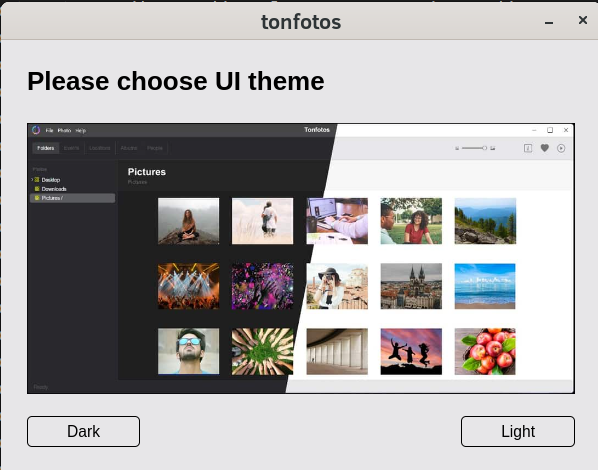 Tonfotos AI automatically recognizes people's faces in your photos, and it does it really easily - see this post. This makes it easy to tag family, colleagues and friends. The software learns from tagged photos to suggest new photos with those people. Using advanced neural networks, Tonfotos is able to identify people in an image and even sort them by age, and can work effectively even when the face is only partially visible.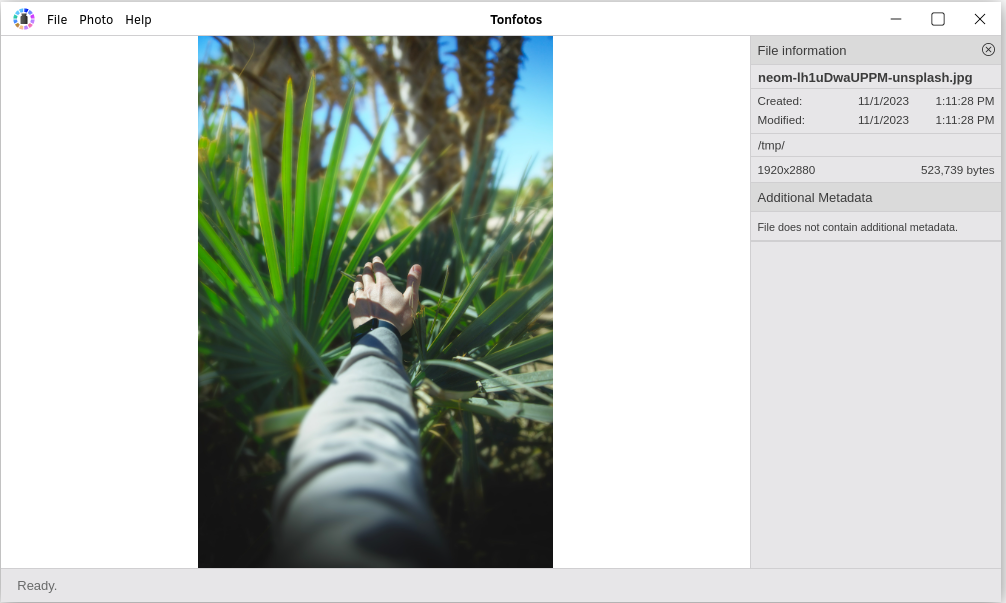 Bring together family photos, paired with reference and genealogical information about ancestors, distant relatives and friends, all in one place. To visualize all the connections between people and easily navigate among relatives, add basic information to each person's ID card.
The map browsing mode is very helpful when you need to find a photo or several of them, but can't remember exactly when they were taken. There are also many essential features like:
Import photos from your smartphone.
Photo conversion.
Video support.
Clean up duplicate pictures.
Favorite pictures.
Instant view - Tonfotos can be a default viewer.
RAW image format support
HEIC image format, popular on Apple devices.
Offline mode - find the photo metadata even when external drives are disconnected.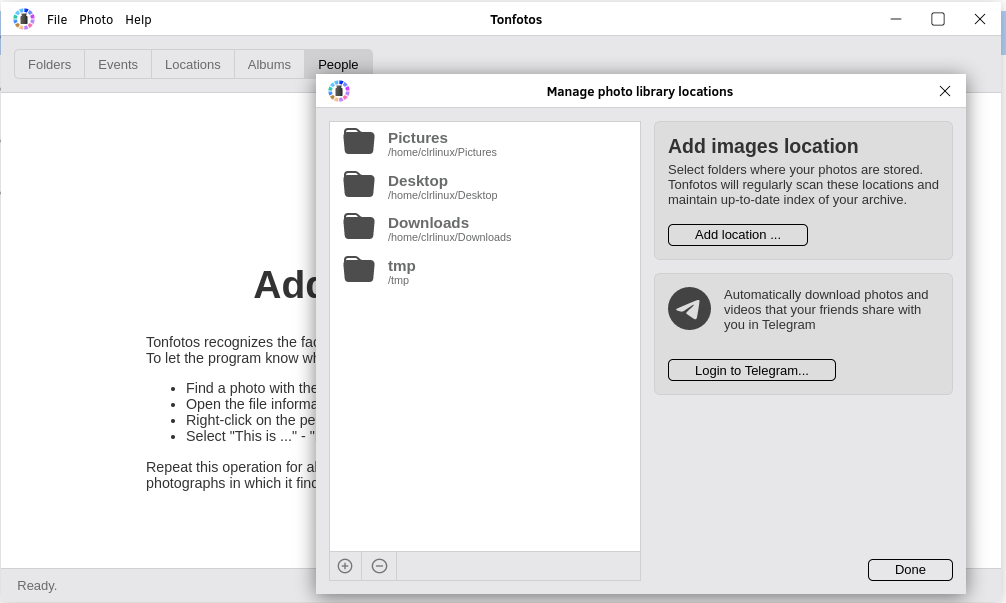 Final Note
DigiKam is the best in the functional aspect - many tools and filters for professionals or beginners, most popular formats are supported and this is number one in our review. This application is the one and only open source software that provides working face detection. Top promising AI-based Photoprism may move DigiKam out of leader position in near future; we're recommending to try it now. In other side, many peoples doesn't need powerful and professional instruments for their everyday work and in my opinion the Shotwell is the best in this category 'cause provide nice design and good tools for basic work. Fotoxx, KPhotoAlbum, Gwenview is also not bad for minimalism lovers, but have several problems in design like "let's move all instruments to the wide left panel".